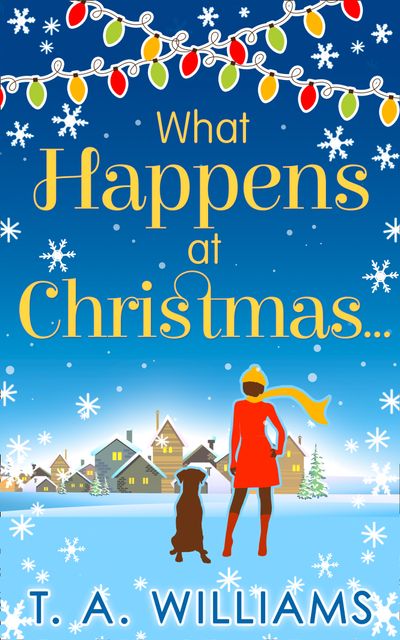 What Happens At Christmas…
The perfect holiday read all year round, a feel-good festive romance with hot chocolate, tinsel and mistletoe by the bucket-load!
For the perfect Christmas…
When career-girl Holly Brice learns that her estranged father has died, she decides to take a trip down memory lane and find out about the man she never knew.
Arriving in the sleepy little Dartmoor village, she's shocked to discover that she's inherited the cosy little cottage she remembers so fondly, a whole load of money – and her father's adorable dog, too!
Head to snow-covered Devon!
And as the first snowflakes begin to fall and Holly bumps into her gorgeous neighbour, Jack Nelson, life gets even more complicated! Men have always been off the cards for high-flying Holly, but there's something about mysterious writer Jack that has her re-thinking her three-date rule…
Praise for T. A. Williams
'T. A. Williams has that gorgeous way of writing a feel good story and something which will easily make you smile…he's absolutely backed up that men can write chick-lit.' ─ Reviewed The Book (TOP 1000 Amazon Reviewer)
'When Alice met Danny is maybe the first book in this genre I have read that is written by a man, and T. A. Williams has done a splendid job!' ─ Rachale's Reads
'I have read others of the author's books and have loved them equally. I wanted to jet off to join them and I bet you will too…Great characters, a fun and enjoyable read that will leave you with a big smile on your face.' ─ Jilllovestoread
'I had my doubts as to whether a 'bloke' would get it! To get beneath the skin of a woman and process how she'd feel in various scenario's. Let's just say I don't have any longer – Trevor you nailed it.' ─ Crooksonbooks