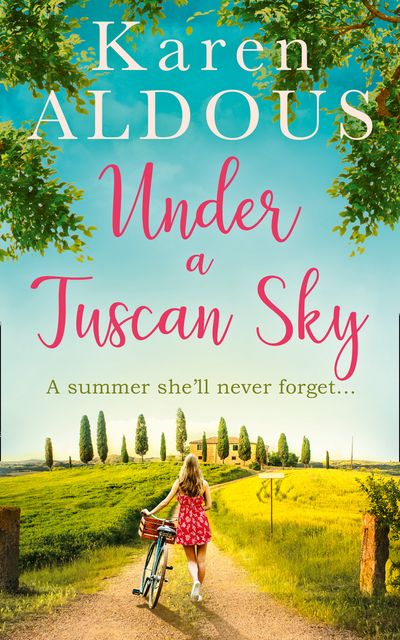 Under a Tuscan Sky
'A sumptuous story.' Rachel's Random Reads (top 500 Amazon reviewer)
Escape to Tuscany this summer with Karen Aldous's brilliantly uplifting read.
A summer she'll never forget…
When Olivia Montague's grandmother passes away, she decides it's finally time to make some changes in her own life. So she breaks up with her 'going nowhere' boyfriend and embarks on a journey to her Nonna's home in Tuscany.
Until now, Olivia has always believed that she's incapable of love, after being abandoned by her parents as a baby. But with each day spent at the gorgeous villa nestled in the rolling Italian hills, she feels her heart begin to flutter…
And when handsome antiques dealer Hugh St. James arrives on the scene, she realises things might be about to change forever!
Perfect for fans of Jules Wake, Erica James and Cathy Kelly.
Praise for Karen Aldous:
'A sumptuous story…what I love about fiction, being able to travel from my armchair!' Rachel's Random Reads (top 500 Amazon reviewer)
'An uplifting story of hope, self-discovery and love, set amid the stunning Italian vineyards.' Got Books, Babe?
'A perfect summer read…set in the beautiful Tuscan countryside.' Rosemary Smith (NetGalley reviewer)
'Stunning… perfect for reading while on your own Mediterranean break!' Pretty Purple Polkadots
'Gloriously escapist, wonderfully entertaining and absolutely impossible to put down! Sure to appeal to fans of Cathy Kelly and Erica James.' Bookish Jottings
'Fascinating, heartwarming, engaging, romantic and utterly compelling.' Sparkly Words