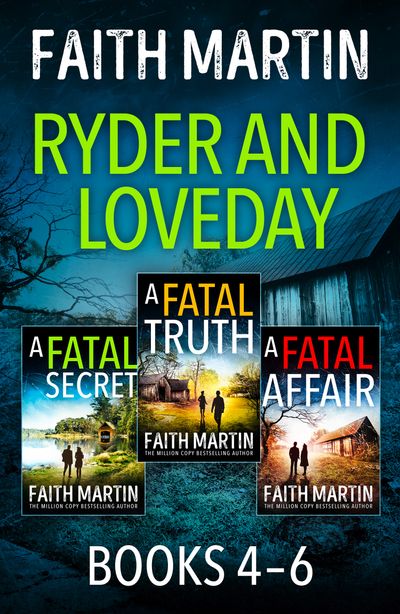 The Ryder and Loveday Series Books 4-6
By Faith Martin
Books 4–6 in the Ryder and Loveday series from million-copy bestseller Faith Martin in one volume!
A Fatal Secret
A young boy is found dead at the bottom of a well. It looks like a tragic accident – but Ryder and Loveday suspect otherwise…
A Fatal Truth
When a garden shed goes up in flames with someone trapped inside, WPC Trudy Loveday and the coroner are sent to investigate…
A Fatal Affair
Ryder and Loveday must crack the case when a young girl is found brutally strangled on a village green…
Readers LOVE the Ryder and Loveday series!
'You can't beat Faith Martin for a bit of highly enjoyable light relief… First class and a joy to read.' NetGalley reviewer, ⭐⭐⭐⭐⭐
'Ryder and Loveday are a fab crime fighting odd couple… More please.' NetGalley reviewer, ⭐⭐⭐⭐⭐
'Martin's books never disappoint. This is another very good simple mystery "whodunnit" that will keep you guessing until the very end.' NetGalley reviewer, ⭐⭐⭐⭐⭐
'An explosive read… Characters, dialogues and plot were superb.' NetGalley reviewer, ⭐⭐⭐⭐⭐
'I loved this… The best one to date… Reminiscent of Agatha Christie's gentle style and incisive detection… I look forward to more in this series!' NetGalley reviewer, ⭐⭐⭐⭐⭐
'Fresh and different… Will get you hooked!' NetGalley reviewer, ⭐⭐⭐⭐⭐
'Yet again Faith Martin delivers… A proper whodunit mystery… A very good book… I'm looking forward to the next.' NetGalley reviewer, ⭐⭐⭐⭐⭐