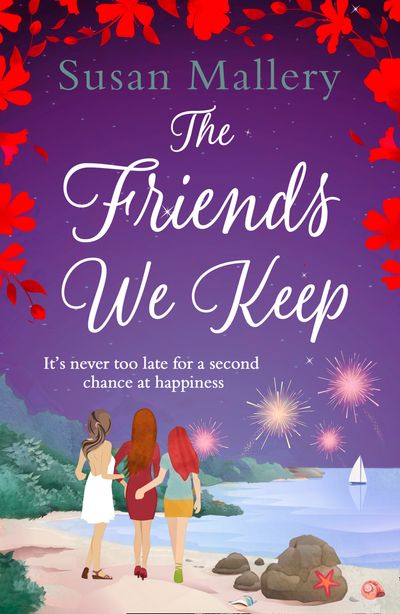 The Friends We Keep
#1 NEW YORK TIMES BESTSELLING AUTHOR
'Warm, witty and romantic. The perfect feel-good read' – Sarah Morgan on You Say It First
Gabby is more than ready to return to work after her stint as a stay at home mum. But when her plans are derailed, she must find the strength to fight for a life of her own.
Hayley is desperate to become a mother. With the costs of fertility treatments mounting up and the strain on her marriage beginning to show, she must ask herself if it is worth risking everything to fulfil her dream.
Nicole is ready to move on after her divorce. But when the perfect man appears in her life can she trust herself to recognise true love?
As their bonds of friendship deepen, Gabby, Hayley and Nicole will have to rely on each other to navigate life's toughest challenges.
Praise for Susan Mallery:
'Susan Mallery never disappoints…. She is at her storytelling best.' -Debbie Macomber, #1 New York Times bestselling author
'Heartfelt, funny, and utterly charming all the way through!' Susan Elizabeth Phillips
'Mallery returns to Mischief Bay with another set of friends dealing with dramatic yet relatable turmoil, which she treats with compassion, discernment, and subtlety' Kirkus Reviews on The Friends We Keep
'An engaging read to be savoured all the way through.' Publishers Weekly on The Friends We Keep
'[A] highly original and fascinating page-turner you may lose sleep over. Mallery brings our inner lives to the surface and evokes deep emotions from her readers. You will fall in love with the girls of Mischief Bay.' –RT Book Reviews on The Friends We Keep
'Mallery, a best-selling romance writer, can write a believable love story. But what makes this story remarkable is how strong and relatable the friendship between the characters is. This is a welcome return to Mischief Bay.' –Booklist on The Friends We Keep
'Once again, Susan Mallery has created an inviting world that envelops her readers' senses and sensibilities… Fans of Jodi Picoult, Debbie Macomber, and Elin Hilderbrand will assuredly fall for The Girls of Mischief Bay.' –Bookreporter
'Fresh and engaging…the writing is strong, the dialogue genuine and believable. There's a generational subtext that mirrors reality and the complexities of adult relationships…filled with promise of a new serial that's worth following.' -Fort Worth Star-Telegram on The Girls of Mischief Bay
Perfect for fans of Debbie Macomber, and Jennifer Joyce, the second instalment of Susan Mallery's Mischief Bay series will move you to laughter, tears, and an appreciation of the enduring power of friendship.