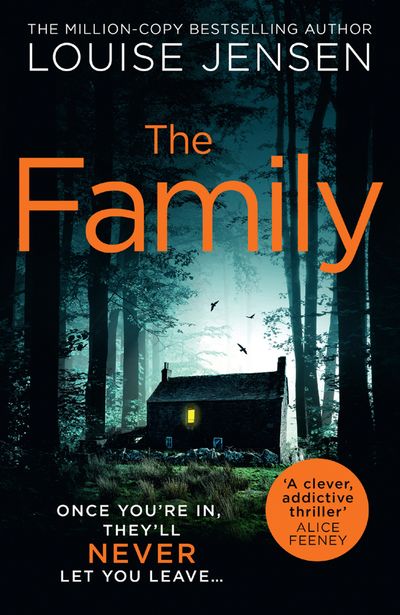 The Family
Could one mother's mistake cost her daughter everything?
'This gripping psychological thriller slowly lures you in, then keeps you guessing about who's good – and who really isn't – all the way to the end' Heat
'Twisted and suspenseful, each layer of deception is peeled back for maximum dramatic impact' Woman's Weekly
'A very good study of vulnerability, and how our best intentions can often lead us astray' The Guardian
'A fast-paced, unputdownable read' Candis
'Enchanted by danger' Woman
'A clever, addictive thriller about family, loss and lies. Packed full of secrets and twists, it will keep you guessing until the final page' Alice Feeney
'Raced through it in a day! Creepy and compelling' B A Paris
* * * * *
ONCE YOU'RE IN, THEY'LL NEVER LET YOU LEAVE.
At Oak Leaf Farm you will find a haven.
Welcome to The Family.
Laura is grieving after the sudden death of her husband. Struggling to cope emotionally and financially, Laura is grateful when a local community, Oak Leaf Organics, offer her and her 17-year-old daughter Tilly a home.
 
But as Laura and Tilly settle into life with their new 'family', sinister things begin to happen. When one of the community dies in suspicious circumstances Laura wants to leave but Tilly, enthralled by the charismatic leader, Alex, refuses to go.
 
Desperately searching for a way to save her daughter, Laura uncovers a horrifying secret but Alex and his family aren't the only ones with something to hide. Just as Laura has been digging into their past, they've been digging into hers and she discovers the terrifying reason they invited her and Tilly in, and why they'll never let them leave…
* * * * *
Readers love The Family:
'If you like a tense, edge of your seat thriller then this one is for you, I highly recommend it'
'Utterly gripping, the characters were believable raw and real'
'What a fabulous read! Couldn't put it down'
'The thrilling ending left me shocked'
'Kept me hooked and guessing until the very end'
My latest thriller is called The Family. It's the story of Laura and her daughter, Tilly, who are indoctrinated into a cult. It's set in a remote part of Wales and at the time of writing I had to rely on my imagination to put myself inside the heads of…
Read More
The idea for this story came about after yet another report of terrorism on the news. My youngest son asked me why people do bad things. Together we researched the psychology behind brainwashing and I found it so fascinating it led me to research cults. The…
Read More