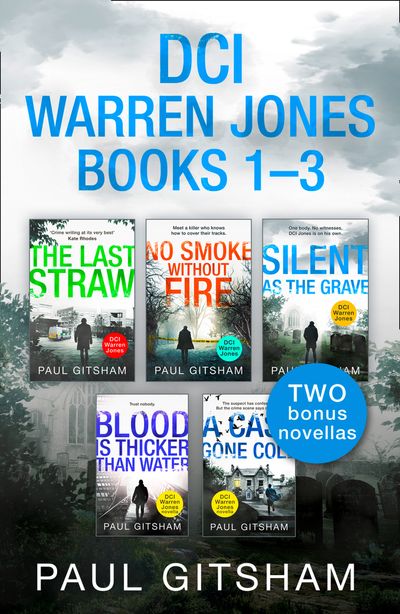 The DCI Warren Jones Series Books 1–3
By Paul Gitsham
The first three books in the DCI Warren Jones series in one volume – with two bonus novellas!
1 The Last Straw
A professor is found with his throat slashed, and there's a long list of potential suspects. But for newly appointed Detective Chief Inspector Warren Jones, political pressure means solving the case is far from easy…
2 No Smoke Without Fire
A young woman is found dead, and all the clues match the MO of a previous perpetrator – but he has a cast-iron alibi. As personal tragedy divides Warren's attention, he must fight to find the killer before another victim is taken.
Blood is Thicker than Water (Novella)
What seems like an accidental death raises red flags – and soon Warren uncovers dark secrets in the victim's past…
3 Silent as the Grave
After a dog walker is found dead, a lack of clues leave the police stuck – until an informant offers information that could blow a wide criminal conspiracy wide open. But can Warren trust him?
A Case Gone Cold (Novella)
An open-and-shut case gives Warren a tantalising clue that links back to an unsolved crime from years ago…
Readers LOVE the DCI Warren Jones Series
'I love this series!' Reader review, 5 Stars
'DCI Warren Jones is must read detective fiction.' Reader review, 5 Stars
'Paul Gitsham never ceases to fill his pages with surprises and DCI Warren Jones is always a winner.' Reader review, 5 Stars
'DCI Warren Jones is one of those characters I just can't get enough of.' Reader review, 5 Stars
'Long may this series continue.' Reader review, 5 Stars
'The writer continues to produce intriguing plots with unexpected twists which keeps you guessing and wanting more.' Reader review, 5 Stars
'DCI Warren Jones and his team are a sure-fire hit.' Reader review, 5 Stars
'DCI Warren Jones is a great addition to the genre.'Reader review, 5 Stars