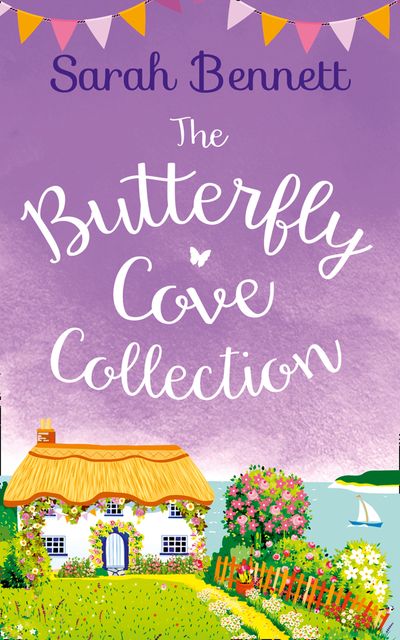 The Butterfly Cove Collection
(Butterfly Cove)
'Guaranteed to melt your heart!' Rae Reads
A perfectly enchanting collection of all three books in the heartwarming Butterfly Cove series!
A year of taking chances…
Mia is finally putting the past behind her and pouring all her savings into renovating a crumbling guesthouse in peaceful Butterfly Cove. But when her first guest, Daniel Fitzwilliam, arrives it's soon clear that the tranquil seaside village has a few surprises in store!
Kiki is hoping for a fresh start after her marriage falls to pieces – and her sister's guesthouse by the sea is the perfect escape. Yet when Aaron Spenser offers to share his cottage until she's back on her feet, she realises she may have found more than just a new home…
Nee knows that returning to Butterfly Cove means facing Luke Spenser, the man she impulsively married, then left in the middle of the night. Running away was the biggest mistake of her life – but could coming home for Christmas be the best decision she's ever made?
Three delightfully feel-good romances, perfect for fans of Trisha Ashley, Rachael Lucas and Hilary Boyd.
Praise for Sarah Bennett:
'A sweet, feel-good contemporary romance…definitely sigh-worthy!' – My Humble Opinion
'I am already looking forward to my next trip to Butterfly Cove in the summer!' – Rachel's Random Reads (top 1,000 Amazon reviewer)
'A gorgeous story, beautifully written and so full of hope.' – Rachel Hawes (NetGalley Reviewer)
'A beautifully romantic debut by a promising new author.' – Kitty Loves Books
'Full of charm, engaging and heart warming…what more could you want!' – Rachel Broughton (NetGalley Reviewer)
'A beautiful, romantic tale, well written and so cheerful.' – Jessica Bell (NetGalley Reviewer)
'A heartwarming and uplifting read.' – Nicola Armstrong (NetGalley Reviewer)