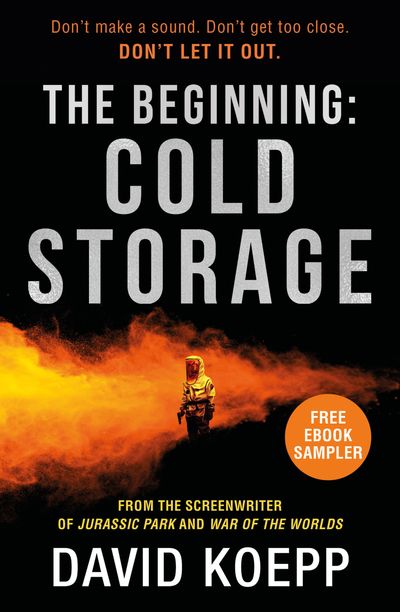 The Beginning: Cold Storage
By David Koepp
From the screenwriter of Jurassic Park and War of the Worlds comes the wild and terrifying adventure you've been waiting for – see how it all begins with this FREE EBOOK SAMPLER . . .
When Pentagon bioterror operative Roberto Diaz was sent to investigate a suspected biochemical attack, he found something far worse: a highly mutative organism capable of extinction-level destruction.
Now, after decades of festering in a forgotten sub-basement, the specimen has found its way out and is on a lethal feeding frenzy. And only Diaz knows how to stop it.
He races across the country to help two unwitting security guards – one an ex-con, the other a single mother. Over one harrowing night, the unlikely trio must figure out how to quarantine this horror again . . . before it's too late,
PRAISE FOR COLD STORAGE
'Depending on your taste in humour and gore threshold, you may well be grinning and gagging in equal measure reading this debut novel from top Hollywood scriptwriter David Koepp. This is about as near to Zombieland or Tremors in book form as you're likely to find. It is properly, full-on gross in places but populated with a vividly drawn cast of believably down-to-earth characters in a plot that accelerates to breakneck pace by the breathless finale' SFX Magazine
'To be simultaneously terrifying and hilarious is a masterstroke few writers can pull off, but Koepp manages in this incredible fiction debut that calls to mind a beautiful hybrid of Michael Crichton and Carl Hiassen. Cold Storage is sheer thrillery goodness, and riotously entertaining' Blake Crouch, New York Times bestselling author of Dark Matter
'A pacy and roaringly entertaining thriller' Magic Radio
'A thrilling, funny, and unexpectedly moving joy ride' Scott Smith, New York Times bestselling author of A Simple Plan
'Koepp has resurrected Crichton, injecting every page with dark humour and humanity. You'll be laughing one minute and checking your long-term survival plan the next' Christina Dalcher, Sunday Times-bestselling author of VOX
'This is a terrific thriller: ambitious, audacious, gory, scary, flamboyant, and funny' Booklist
'Cold Storage is so addictive, I couldn't turn the pages fast enough . . . the story is just as contagious as the subject' New York Times bestselling author Alice Feeney
'You might as well put your plans on ice for the next twenty-four hours, as all you'll be doing is reading this book.  The very definition of 'thriller,' David Koepp's Cold Storage grabs you and shakes you and ultimately leaves you grinning' Scott Frank, Academy Award-nominated writer of Logan and Out of Sight