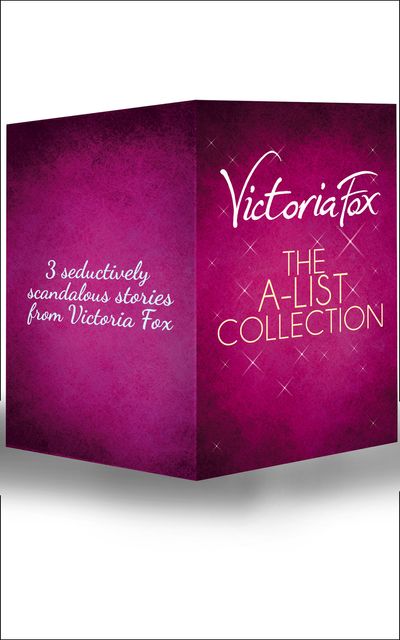 The A-List Collection: Hollywood Sinners / Wicked Ambition / Temptation Island
Three seductively scandalous stories from Victoria Fox
Hollywood Sinners
POWER
Marriage to Hollywood heartthrob Cole Steel secured Lana Falcon her glittering place on the red carpet. Desperately running from her wicked past, has she trapped herself in a gilded cage?
REVENGE
Kate diLaurentis's marriage is fading as quickly as her looks. But it's her husband's affair with Hollywood's hottest starlet that pushes Kate over the edge. It's payback time!
LUST
English rose Chloe French has captured a million hearts with her innocence, but rock star Nate is a dangerous, dark temptation – will lust destroy her?
GREED
Las Vegas King, Robert St Louis's fairytale wedding to Sin City's richest heiress is tabloid gold… But scandal circles like a vulture – dirty secrets are about to be exposed!
Sexy. Sensational…Sinfully good.
'Jackie Collins for the modern gal' – Grazia
Wicked Ambition
SUCCESS. SCANDAL. SHAME.
Some people will do anything for fame. Some will do anything to bring the famous down. One glittering superstar thinks she has it all. She's the envy of every woman, the hopeless fantasy of every man and has all the luxury money can buy.
But behind the dazzling LA spotlight lies a hidden shadow – for no amount of money can conceal past sins forever…
Temptation Island
WELCOME TO PARADISE Only the rich are invited…only the strongest survive
Fame. Money. Success.
Lori wants them, Aurora is being destroyed by them and Stevie's got them at her best friend's expense. These three women are drawn unwittingly to the shores of Temptation Island, all looking for their own truth.
But they discover a secret so shocking, there's no turning back. It's wicked, it's sensational. Are you ready to be told?
But the glittering waters drown dark secrets. The island promises the one thing money can't buy – and the price is devastating…