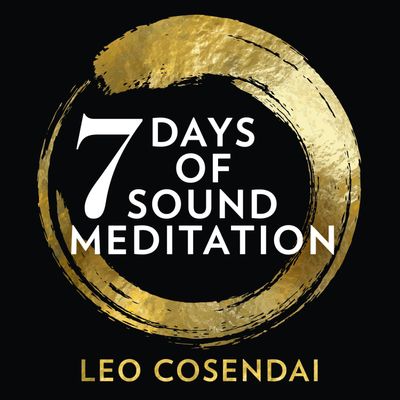 Seven Days of Sound Meditation: relax, unwind and find balance in your life
'Will get you through even the toughest commute.' Elle
Plug in, relax and unwind.
Have you ever wondered how it might feel to change your relationship with stress? To give yourself a chance to mindfully live each day to the full and sleep deeply and soundly through the night?
Join gong master Leo Cosendai as he guides you into a world of immersive sound meditation with his brand new audiobook 7 Days of Sound Meditation.
Life is hectic and grabbing some time for yourself can feel almost impossible. But with bespoke sessions designed to cater to your mood, you can destress with the power of sound, whether you have fifteen minutes or fifty.
Restore your wellness and wellbeing, free yourself from stress, and find more peace in your life.
Contents
Introduction
Day 1 – Start Your Day (15 minutes)
Day 2 – For Focus and Productivity (20 minutes)
Day 3 – Boost Your Creativity (30 minutes)
Day 4 – For a Mindful Sleep (30 minutes)
Day 5 – For a Mindful Commute (25 minutes)
Day 6 – Letting Go (45 minutes)
Day 7 – Relax and Restore (55 minutes)
Bonus Session – For a tight schedule (10 minutes)
*This audiobook works with all headphones and devices – no special equipment is needed*