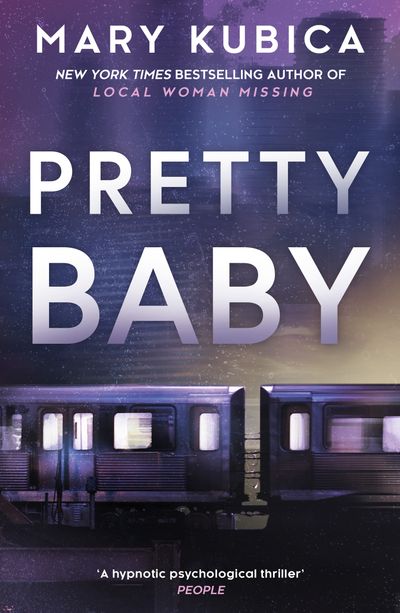 Pretty Baby
A chance encounter
She sees the teenage girl on the train platform, standing in the pouring rain, clutching an infant in her arms. She boards a train and is whisked away. But she can't get the girl out of her head…
An act of kindness
Heidi has always been charitable but her family are horrified when she returns home with a young woman named Willow and her baby in tow. Dishevelled and homeless, this girl could be a criminal – or worse. But despite the family's objections, Heidi offers them refuge.
A tangled web of lies
As Willow begins to get back on her feet, disturbing clues into her past starts to emerge. Now Heidi must question if her motives for helping the stranger are unselfish or rooted in her own failures.
Praise for Pretty Baby
'Pretty Baby is almost hypnotic and anything but predictable…This book will give insomniacs a compelling reason to sit up all night.' – Kirkus
Praise for The Good Girl
Selected as one of the Top Ten General Fiction Books of 2014 by Bookbag.co.uk
'A twisty, roller coaster ride of a debut. Fans of Gone Girl will embrace this equally evocative tale' – Lisa Gardner
'A sensational climax seals the deal' 'I hesitate to use that terrible cliché 'page-turner', but this powerful debut thriller is just that. It grabs you from the moment it starts' – Daily Mail
'Pulse pounding' – Heather Gudenkauf
'Sensational' – Metro
'One of the trickiest, cleverest, most rewarding human interest crime tales of this year.' – Top 100 Amazon reviewer Katharine Kirby
'Kubica's powerful debut will encourage comparisons to Gone Girl…[but] this girl has heart' – Publishers Weekly starred review
'Memorable and riveting' – Lovereading.co.uk
'As a debut, this is a stunning, well-written novel – Kubica is an author to watch.' – We Love This Book
'This psychological thriller gets right under your skin and leaves its mark. A tremendous read' – The Sun
'A complex tale of deceit, jealousy, fear and love played out against the bustling, bright lights of Chicago … a stunning debut' – Crimethrillergirl.com
'If you love a dark mystery, The Good Girl will keep you entranced from the very first page to the end. Likened to the bestselling Gone Girl by Gillian Flynn, this psychological thriller looks set to be a blockbuster – and it's only Kubica's first novel! … I can't wait for more from this talented writer' – Peterborough Evening Telegraph