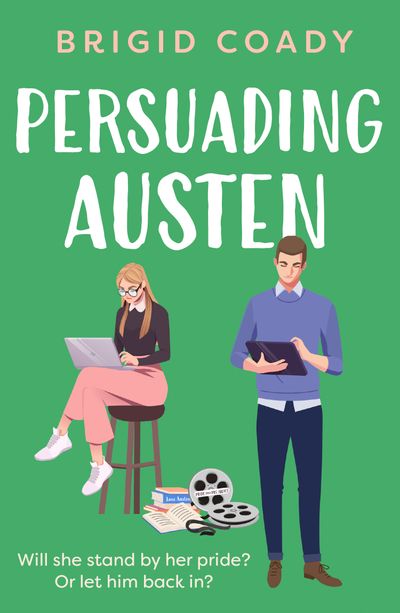 Persuading Austen
By Brigid Coady
'I loved it! Wicked humour with a big heart' – Liz Fenwick
It is a truth universally acknowledged that working with an ex is a terrible idea…
Annie Elliot never expected her life to turn out this way: living with her dad, working as an accountant – surely the least glamorous job in Hollywood?! – and dodging her family's constant bickering.
Landing a job as a producer on a new adaptation of Pride and Prejudice seems like the piece of luck she's been waiting for. Until the cast is announced, and Annie discovers that the actor playing Mr Darcy is Austen Wentworth: the man she's spent nearly a decade trying to forget.
Not only is Austen her ex – but while Annie's life has stalled, Austen is Hollywood's hottest property…and has just been voted World's Sexiest Man.
With nowhere to hide, there's just one question. Now the one who got away has come back, should Annie stand by her pride? Or give into Austen's powers of persuasion?
A laugh-out-loud retelling of a Jane Austen romance, perfect for fans of Lindsey Kelk and Fiona Collins
Brigid Coady was the winner of the 2015 Joan Hessayon New Writers' Scheme Award
Praise for Brigid Coady
'Awesome, awesome, awesome! … Fans of Paige Toon, Sophie Kinsella and Lindsey Kelk, this will most definitely be your thing!' – Sophie Bailey, ibloggbooks.com
'As the story moved from setting the scene and firmly entrenching the reader in a Persuasion rerun to the actual filming it stepped away from a faithful retelling of the story and came into its own right. If you loved films like Ten Things I Hate About You …you will really like this.' – Alison Robinson, Netgalley