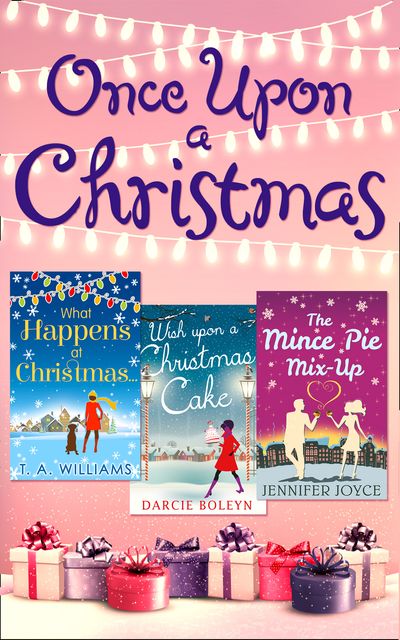 Once Upon A Christmas: Wish Upon a Christmas Cake / What Happens at Christmas… / The Mince Pie Mix-Up
Snuggle up with not one, not two, but three fabulous festive romances this holiday season!
Wish Upon A Christmas Cake
When Katie Warham wished for the best Christmas ever, she never expected her ex-boyfriend Sam to turn up on her doorstep! But as the snow begins to fall, Katie begins to wonder…could her Christmas wish actually come true?
What Happens at Christmas…
Men have always been off the cards for high-flying Holly, but there's something about mysterious writer, Jack, that has her re-thinking her three-date rule. And with only a few days until Christmas, there's magic in the air…anything could happen!
The Mince Pie Mix-Up
'Tis the season to be jolly, yet for Calvin and Judy the usual festive bickering has already begun! But after a magical mince pie mix-up, one thing's for certain – by Christmas Day, life will never be the same again…
Perfect for fans of Holly Martin, Carole Matthews and Jenny Hale.
Praise for Darcie Boleyn, T. A. Williams and Jennifer Joyce:
'A beautiful and heartwarming tale, that really tugged at my heart strings…a delightful debut novel from Darcie Boleyn.' ― Gilbster (Top 1000 Amazon Reviewer)
'T. A. Williams has that gorgeous way of writing a feel good story and something which will easily make you smile…he's absolutely backed up that men can write chick-lit.' ─ Reviewed The Book (TOP 1000 Amazon Reviewer)
'An adorable, fun-filled and festive read for everyone who likes to take a break from the relentless Christmas rush!' ― The Nest of Books Review