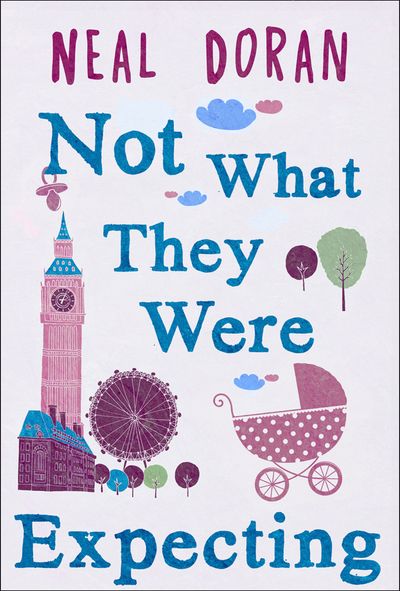 Not What They Were Expecting
Life can be complicated. And complications are the last thing you need when a baby's on the way.
But when Rebecca and James announce their joyful news, little do they know the road to baby bliss is far from smooth. Not only has James lost his job, but he can't find another and can't tell his wife why.
Meanwhile Rebecca's own family has picked the worst possible time to start to fall apart, and are relying on her to try and fix it.
As secrets begin to permeate their lives Rebecca and James end up wondering are they really ready to be parents after all…
But it's too late now – and the expectant couple are about to learn that life doesn't always turn out quite as you expect it.
Praise for Neal Doran
'Neal Doran takes us in a rollercoster of emotions: happiness, joy, drama, betrayal, disapointment and secrets, lots of secrets. He keeps the reader totally hooked from the first page with his witty sense of humour and all the unexpected twists (there were some that I didn't see coming at all).' – Lost in Chick Lit
'…you would be mad not to pick up this book as it was a wonderful read.' – Reviewed the Book
'Neal Doran is funny, brilliant and heart-achingly real. Wickedly insightful with a real heart, he offers a fresh take on modern day relationships and real life. Neal is a rising star in contemporary comedic fiction!' – Miranda Dickinson, bestselling author of Take a Look at Me Now and When I Fall in Love
'Full of witty one-liners, Dan Taylor Is Giving Up On Women is a hilarious examination of the morals of modern-day dating." – Matt Dunn, bestselling author of The Ex-Boyfriends' Handbook and A Day at the Office.
'Neal Doran is a very funny writer' John O'Farrell, author of The Man Who Forgot His Wife
'A big-hearted breath of hilarious fresh-air, Dan Taylor Is Giving Up On Women is a tender, touching and terrifically funny debut. The crises, the crushes and the cringes of an honest and sharp look at a very modern romance, treat yourself.' – Richard Asplin, author of T-shirt and Genes