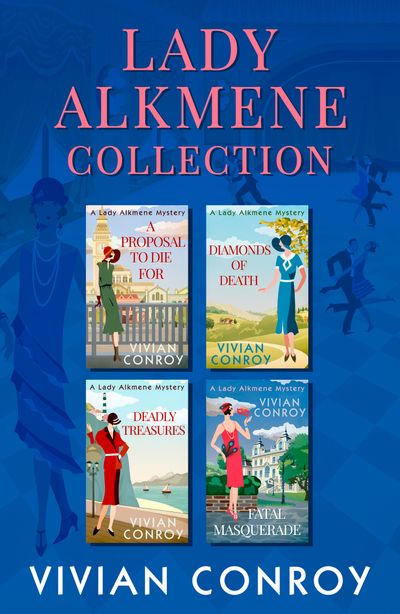 Lady Alkmene Collection
Step back in time with the perfect cosy crime bundle, featuring all four Lady Alkmene mysteries!
Murder can be deadly!
A Proposal to Die For
A murderous beginning
With her father away in India, Lady Alkmene Callender finds being left to her own devices in London intolerably dull, until the glamorous Broadway star Evelyn Steinbeck arrives in town! Gossip abounds about the New York socialite, but when Ms Steinbeck's wealthy uncle, Silas Norwhich, is found dead Lady Alkmene finds her interest is piqued. Because this death sounds a lot to her like murder…
Diamonds of Death
A family of secrets…
After hearing about the vicious murder of her relation, Lord Winters, Lady Alkmene is intrigued to find out that the cat burglar found standing over his body, the safebox emptied of jewels, might not be the murderer after all…
Deadly Treasures
Murder on the coast
Lady Alkmene Callender has little interest in marriage, especially when her father is up to his matchmaking tricks, but when the opportunity arises to visit an archaeological dig she cannot resist.
However, when she arrives to find her potential groom under arrest for murder Lady Alkmene begins to wonder if she isn't in the right place at the right time.
Fatal Masquerade
Masked danger…
Lady Alkmene Callender has always loved grand parties, but when she receives an invitation to a masked ball thrown by Franklin Hargrove – oil magnate, aviation enthusiast and father of her best friend, Denise – she's never seen such luxury. But below the glamour, evil is lurking. When a dead body is discovered, it forces Lady Alkmene to throw off her mask and attempt to find the true killer…
Readers love Vivian Conroy's Mysteries!
' A good old-fashioned whodunit'
'Vivian most definitely did not disappoint'
'Engaging, well written, and entertaining'
'Fantastic stories'
'If you like a really good mystery on a par with Christie then this is for you'