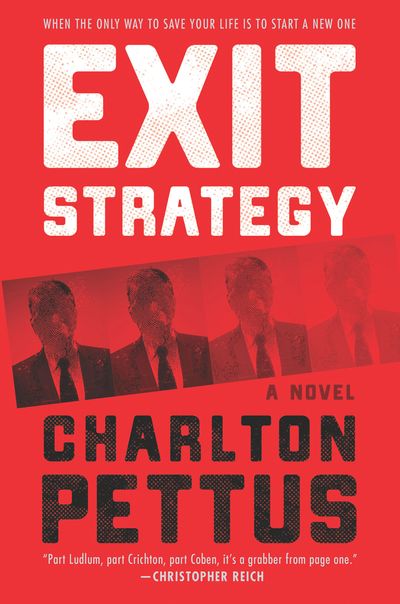 Exit Strategy
Sometimes you just need to escape.
But you can never, ever go back…
Are you a crooked politician?
A deposed dictator of a third-world nation?
Or simply a white-collar criminal looking to avoid prison or a deadlier form of payback?
If the answer to any of these questions is yes, then Exit Strategy is at your service. With just one call, Exit Strategy will assist all manner of wealthy-but-wanted types to disappear completely. They can fake your death, give you a new name and face, and launder whatever ill-gotten funds you need to establish a new life on the other side of the world.
When Jordan Parrish, the brilliant founder of a medical technology start-up, made the call to Exit Strategy, he thought he had no other way out. But after his exit, he begins to wonder about the circumstances that led him to make that momentous decision: was someone, in fact, working against him? To find out, Jordan will have to break the cardinal rule of Exit Strategy: you can never, ever go back.
Exit Strategy is a globe-trotting thriller about the type of shadowy organisation that many have long suspected exists, but have never glimpsed inside … until now.
Readers love Charlton Pettus:
"couldn't put it down"
"It's quite brilliantly written"
"The story is highly suspenseful and dangerously addictive"
"highly readable, addictive"
"A smart, highly entertaining page-turner."
"This is a very good novel. I'm surprised it's the author's first"
"This is one of the best thrillers I've ever read"