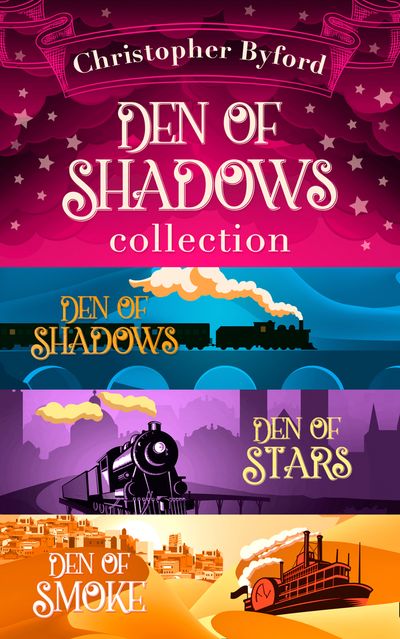 Den of Shadows Collection: Lose yourself in the fantasy, mystery, and intrigue of this stand out trilogy
Enter a world of sin and fantasy in this collection of fantastical stories!
Welcome to the Gambler's Den where every night is a party, and every day is a battle with the law…
Den of Shadows
While fighting off poverty in the blistering desert heat a travelling casino offers one night of solace. One chance to change your fortunes. But once on board there is more to the show than meets the eye: enter Franco, the elaborate ringleader, Wyld the stowaway thief and Misu the fire breathing showgirl.
In a kingdom ruled by the law Franco ensures his den remains in line. But when he's faced with saving the fate of the train, and those on board, he may be forced to break his own rules. Life on the den isn't just a job but a way of life and once you're in you'll never be able to leave.
Den of Stars
The Gambler's Den lies in ruins, its staff scattered across the Sand Sea, all but a memory of the minds of its past patrons. But when the Morning Star appears, ruled by a mysterious figure known only as the Hare, the comparisons can't be helped. Who is this larger-than-life character? Why do the showgirls wear masks? What are they hiding? The answer…they should be dead.
Franco and Misu were safe only in their anonymity, but with Franco gone Misu must find him – jeopardising all they have built. In order to save the man she trusts Misu must put her faith in the villain.
Wilheim does not forget disobedience lightly, and Misu's was a great betrayal, so now he will call in his debt, and his revenge on the staff of the Morning Star.
Den of Smoke
There is always someone ready to take the title villain…
Jackdaw may once have been a part of Wilheim's gang but now he's looking for a new life, a free life.
But will he be able to shake his past for good, or will he end up in a worse position than he was before?