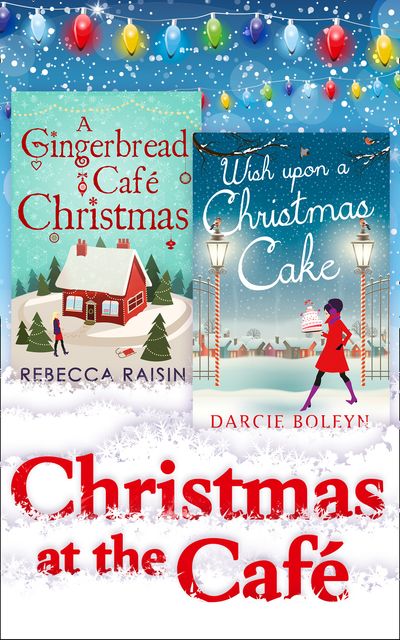 Christmas At The Café: Christmas at the Gingerbread Café / Chocolate Dreams at the Gingerbread Cafe / Christmas Wedding at the Gingerbread Café / Wish Upon a Christmas Cake
Curl up by a roaring fire with a delicious cup of mulled wine and enjoy two festive winter warmers, for the price of one!
A Gingerbread Cafe Christmas
Christmas is the season the Gingerbread Café was made for and owner Lil has every recipe down, from gingerbread men to snow dusted mince pies. So when gorgeous outsider Damon opens a shop opposite The Gingerbread Cafe, Lil refuses to let him steal her customers without a fight – no matter how much he makes her heart flutter!
Wish Upon a Christmas Cake
Katie Warham has just one wish this year: to have the best Christmas ever. But that didn't include the surprise arrival of her ex-boyfriend, Sam! Katie didn't think any man could tempt her under the mistletoe this year…yet as the snow begins to fall, could her Christmas wish actually come true?
What readers are saying about A Gingerbread Café Christmas and Wish Upon A Christmas Cake:
A Gingerbread Café Christmas
'Simply divine, with stunning writing slipping between being utterly romantic, charming and fun-filled and a little emotional.' – Reviewed the Book
'A book that's sure to leave you feeling all warm and fuzzy inside' – Paris Baker's Book Nook
'Fun, quick, festive reads that'll leave you glowing from within.' – Into the Bookcase
'It has everything, from sensational food to gorgeous romance and all the little things in-between.' – Becca's Books
Praise for Wish Upon A Christmas Cake
'A beautiful and heartwarming tale, that really tugged at my heart strings…a delightful debut novel' ― Gilbster
'…put on your fluffy pyjamas, grab a hot chocolate and immerse yourself in the delights of Wish upon a Christmas Cake.' ― The Book Review Café
'What a gorgeously delicious book this is! It just makes me wish I was reading it by a roaring fire, with snow outside and a plate full of mince pies!' ― Goodreads Review
'Wish Upon a Christmas Cake is very much a story of loss and true love with a sprinkling of Christmas thrown in for good measure.' ― By The Letter Book Reviews